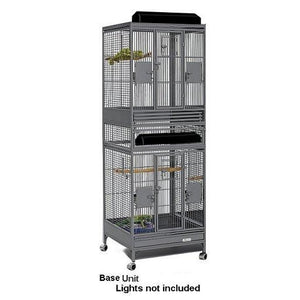 Avian Adventures
Avian Adventures Multi Vista Cage
These double stacked bird /reptile cages are ideal for breeders, and, multi-reptile households. Divided room with space for UV light kits to keep reptiles in great breeding temperament and provide vitamin D for calcium absorption.
The multi view is a very versatile cage. Originally sold as a bird cage, many reptile enthusiasts are finding it ideal for their collections. The secret to this unique cage is the panels that separate the cages. They can be removed!. Use in the configuration pictured and put a light box into the center for mounting a UV light kit above the bottom cage. Use as two cages without the light box (upper is 24" tall, bottom is taller since there is not light box area taken out of it.) Or take out all of the dividers and use as one very tall cage. (Iguanas appreciate the taller room for climbing space.)
Additional expansion units can also be purchased allowing even greater flexibility. Use one, two, three, four or more cages.
Multi-Vista Cage Features:
Includes top cage, middle light box area and bottom cage.
Very easy to assemble and knock down. No nuts, bolts, or tools needed.
Outside access food cups. 4 Interior stainless steel food bowls are accessible by SOLID swing open doors so you NEVER have to reach inside the cage
2 Natural wood perches - no boring dowels! Our perches are made of mangrove or yellow cow wood, lighter yet harder than Manzanita. (Other cage furniture sold separatey)
Large front doors make reaching in or moving your pets easy!
Breeder box doors on both cages
Slide-out Removable Metal Trays for easy cleaning
Slide-out, removable grates make placing substrate and litter in the bottom tray easy and accessible for the reptiles. Or leave the grate in and keep your pet out of the substrate.
Easy roll casters
Durable and beautiful powder coat finish - zinc and lead free (Tested safe)
Beautiful Platinum Gray. Silver accent packages, including beautiful new name plates, come on each cage The Platinum cages come with silver accents: silver latches, and silver casters.
Six month warranty against manufacturer defects on Powder-Coat cages.
Avian Adventures Multi View Cage Dimensions
Each Module dimensions: 24" x 24" x 24"
Overall dimensions: 71" x 24" x 24"
1/2" wire spacing (measured between the wires). Can accommodate most adult chameleons, adolescent iguanas, adult bearded dragons and other reptiles larger than the 1/2" bar spacing.
1/8" gauge wire
132 Lbs. Ships UPS in 3 boxes.
Ideal for: Most adult chameleons, adolescent iguanas, adult bearded dragons and other reptiles larger than the 1/2" bar spacing.
---
Share this Product
---
More from this collection