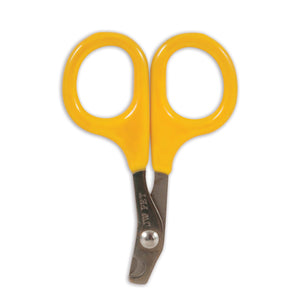 Petmate
JW Gripsoft Small Nail Clipper
Special Offers:
We are excited to announce that we have become affiliates of Petmate.* This allows us to offer exclusive deals to our customers Direct. All you have to do is click here*
You will get:
The same high-quality products you love and trust
Factory Direct pricing
Bonus!!! Enter these promo codes when you check out and save even more!
Product Description
Got a small fry who needs his nails cut?  The worst thing ever (for you and your pet) is to cut his nails into the quick.  It takes a long time to be forgiven.  Solving the problem is the Petmate JW GripSoft Small Nail Clipper that features an extra small design of clipper so you can comfortably and safely use it on your small breed cat, dog, bird, or even reptile. 
The non-slip handle makes it super easy to fit the natural curvature of your hand so you can clip with confidence.  They optimize precision and make the process a comfortable one for you and your beloved pet.  The handle also has Gripsoft technology so the clippers won't accidentally slip out of your hand.  A high-quality built-in nail guard helps ensure you never cut too deep.  Regular grooming is important for the health of your pet. 
Check out the full line of JW Gripsoft products for the ultimate in pet grooming needs.  The dimension of this product is 5.8" X 4.3" X 0.3" and it weighs in at just 0.11 LB for ease in handling.
Review
I was petrified to cut my kitten's nails but they needed it because they kept getting hung up. She was as nervous as I was, if not more so. The most amazing thing about the clippers is that they are precise and sharp.  They are comfortable and easy to hold too. I am all about these clippers and highly recommend them!
---
Share this Product
---
More from this collection