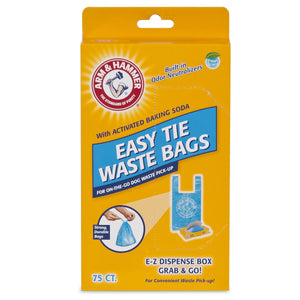 Petmate
Arm & Hammer Easy-Tie Waste Bags
Product Description
Make pet clean-up a breeze with these disposable Arm & Hammer Fresh Scent Easy Tie Waste Bags.
Perfect for taking along to the dog park or on your everyday walks, these bags have baking soda in them to control and eliminate odor and also have an added fresh scent to make a job that stinks much more pleasant. 
Every bag features ends that are extended so you can tie them tightly and easily. 
The bags are durable and strong and are a great and convenient grab-and-go solution for poop disposal. 
Twice as thick as regular grocery bags, there are seventy-five bags in each box.  Measures 1.5" X 4.5" X 8.5" and weighs 0.5 lbs.
Also great for dirty and wet diapers and stinky, wet or soiled clothing.
Special Offers:
We are excited to announce that we have become affiliates of Petmate.* This allows us to offer exclusive deals to our customers Direct. All you have to do is click here*
You will get:
The same high-quality products you love and trust
Factory Direct pricing
Bonus!!! Enter these promo codes when you check out and save even more!
Review
I learned my lesson with trying to take a shortcut and use grocery bags (which are now thinner than ever).  I got poop all over myself during a hike and we had to end an otherwise beautiful day all too early.  Now, I rely on these bags that are super strong and smell fresh.  Thanks, Arm and Hammer for always coming through!
---
Share this Product
---
More from this collection