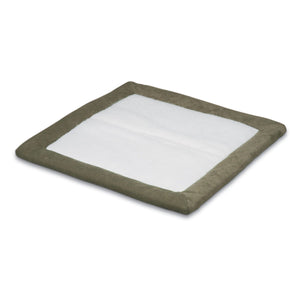 Petmate
Aspen Pet Attract-O-Mat
Special Offers:
We are excited to announce that we have become affiliates of Petmate.* This allows us to offer exclusive deals to our customers Direct. All you have to do is click here*
You will get:
The same high-quality products you love and trust
Factory Direct pricing
Bonus!!! Enter these promo codes when you check out and save even more!
Product Description
Who wants pet hair on their furniture?  Pet hair seems to come with the territory of having a pet but now, you can keep your furniture spotlessly and hairlessly with the Aspen Pet Attract-o-Mat.  Thoughtfully constructed from electrostatic polymer, the Attract-O-Mat instantly captures hair, dirt, and dander just like a magnet!
Whether it's your cat molting during the summer months or your dog shedding like crazy, this well-constructed mat will attract hair like body's business.  Perfect for cats to play, sleep and lounge on, this mat has an attractive fabric border that will enhance the look of your home décor.  It is best to spot clean it only and to use a damp cloth when it is needed.  The measurements are 17.5" X 17.5" and it weighs .83 lbs.
Review
I was considering going petless because of all the hair all over me and my home.  I wasn't sure I could give my kittens up, but I was thinking about it.  The hair was overwhelming in the summer especially.  A friend recommended this mat and oh my, what a difference it has made in my life. 
It even catches my dog's hair when he sheds.  I am keeping the kittens and the dogs and am definitely keeping the mat. It is constructed tough enough for 4 pets who are in and on it and looks pretty nice too. If you have a pet hair problem, may I suggest this wonderful mat?
---
Share this Product
---
More from this collection