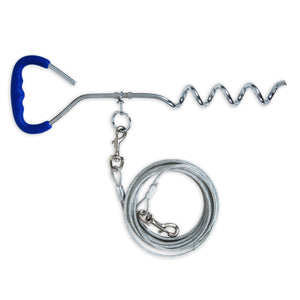 Petmate
Aspen Pet Easyturn Stake W/ Tie-Out
Special Offers:
We are excited to announce that we have become affiliates of Petmate.* This allows us to offer exclusive deals to our customers Direct. All you have to do is click here*
You will get:
The same high-quality products you love and trust
Factory Direct pricing
Bonus!!! Enter these promo codes when you check out and save even more!
Product Description
If you need a solution to keep your favorite four-legged friend safe and secure while allowing him to be outside, this Aspen Pet Easyturn Stake w/Tie-Out will quickly become your other best friend.  Rack some brownie points with your pooch when you give him the freedom he craves and the safety you insist on, all n the same containment product. 
The stakes are extremely strong and very durable with a variety of six sizes and styles to choose from They provide maximum optimization in anchoring and control so you never have to worry about safety but your pet gets a 360-degree roaming area.  The stake provides a tangle-free zone too.    The stake screws easily install into any type of ground and stay planted firmly due to dual anchors that prevent it from being able to be pulled out. 
The dome style prevents the typical problems that occur with protruding handled models.  The extra strong steel shaft is as secure as it gets and it is double welded for even more security measures.  Comes with a tie-out cable and a malleable swivel that gives your lucky dog a 360-degree roaming area.  The dimensions are 16" / 15' and it weighs just 1.5 lbs.
Review
There are some places I take my dog where it is just not safe for her to be off her leash.  I have a fenced yard for her at home but she goes where I go so we needed one of these stakes with a tie-out to keep her out of trouble and safe when we are away from the house. Talk about secure...I don't think there is much of anything that could break this one...not even a mac truck.  It is solid!  She doesn't mind being on it because the roaming area is quite large.
---
Share this Product
---
More from this collection