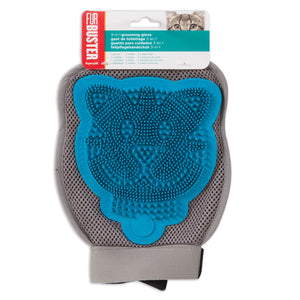 Petmate
Aspen Pet Furbuster 3-In-1 Cat Grooming Glove
Special Offers:
We are excited to announce that we have become affiliates of Petmate.* This allows us to offer exclusive deals to our customers Direct. All you have to do is click here*
You will get:
The same high quality products you love and trust
Factory Direct pricing
Bonus!!! Enter these promo codes when you check out and save even more!
Product Description
Tired of having a hairy house?  If you are ready to put the hair-raising, fur-ridden terror behind you, you'll love that this Aspen Pet FurBuster 3-in-1 Cat Grooming Glove is the ultimate solution.  It comfortably fits around your hand to bring you quick and easy grooming for your special kitty.  The straps on the inside adjust even on smaller hands and an adjustable strap tightens around your wrist for a secure grip.  An outside mesh lets water flow through it so your cat's hair dries faster.  Encourages removal of excess hair and controls shedding too.  It even penetrates the undercoat so you can get your cat deep cleaned when bathing him. 
The rubber side of the glove can be used dry or wet and features brush-like fingers for scrubbing, massaging and grooming.  The fabric side of the glove is like a lint brush that can be used to remove loose hair from your cat or even from furniture and clothing.  Hang the glove up for easy and convenient storage when grooming time is over.  The gloves are machine washable and should be air dried.  The dimensions are 1" X 7" X 12" and the weight is 0.28 lbs.
Review
These are great gloves.  I was fed up with my cat's hair being everywhere- all over him, my house, me, and anywhere else he happened to go. I got this glove not expecting that much but was very pleasantly surprised. It is an easy and inexpensive way to get rid of fur being everywhere and I think my cat feels better too.
---
Share this Product
---
More from this collection