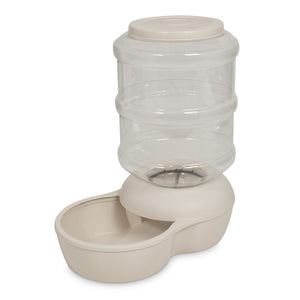 Petmate
Aspen Pet Lebistro Feeder
Product Description
Instant is great!  Make sure your pet has fresh food instantly, anytime he is hungry, even when you are away from home.  Unfortunately, pet parents are busy and can't always attend to their pet's needs.  Now, luckily, your dog doesn't have to suffer. 
The Aspen Pet Lebistro Feeder provides the perfect way to use gravity to your advantage.  You can rest assured he is fed through the day and also spend less time filling up his food bowl and more time actually interacting with him because that is the most important thing to your four-legged best friend. 
This top-quality innovative feeder allows your beloved pet to have the sturdy food chamber is clear so you can easily and quickly glance at it to see what the food level is. 
The handy top loading feature allows you to refill the feeder very easily.  Choose the ideal size for your pup and make sure he never goes hungry again. 
Proudly made in the USA, the base of the Lebistro is safe for the dishwasher but the bottle should NOT be put through the dishwasher but is super simple to clean with soap, water, and a clean rag. 
The dimensions are 8.78" X 14.62" X 14.71", it has a 10 lb. capacity and weighs 2.46 lbs. although you can choose whichever size accommodates the feeding needs of your pet.
Special Offers:
We are excited to announce that we have become affiliates of Petmate.* This allows us to offer exclusive deals to our customers Direct. All you have to do is click here*
You will get:
The same high-quality products you love and trust
Factory Direct pricing
Bonus!!! Enter these promo codes when you check out and save even more!
Review
Holy Smokes!  I never realized how much time I was spending feeding my puppy.  I always free feed him and he is always wanting more. When he is older, I will get him on a stricter schedule but that is how I do it for now. I got this feeder and I am loving it. So is he! It works great. Recommend highly!
---
Share this Product
---
More from this collection