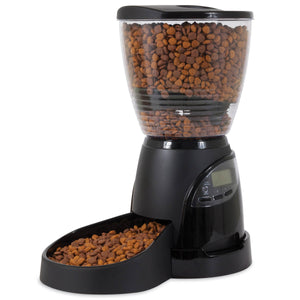 Petmate
Aspen Pet Lebistro Programmable Food Dispenser
Product Description
Do you love the idea of automatically feeding your dog or cat but want to schedule his feedings?  Some dogs can tend to eat more, or more often than they should. 
Obesity in dogs and cats is as dangerous as it is in humans.  Take charge of your pet's health with the Petmate Aspen Pet Lebistro Programmable Pet Food Dispenser, the innovative and ultra-dependable automatic feeder that accommodates the needs of pets with busy pet parents.  
Your fur-friend's meals can be conveniently programmed so you can feed your pet the right amount at the exact right time, even in the event that you cannot be home with him. 
A state-of-the-art, easy to read LCD screen and super simple programming buttons make it a breeze to customize his meal sizes as well as his feeding schedules, according to your discretion. 
The food dispenser is quite stylish and looks great while serving a super important purpose.  It will keep the food fresh too.   
The Aspen Pet Lebistro Programmable Pet Food Dispenser can be programmed for up to 3 meals per day and the portion control can be set from 1/4 cup to 3 cups of your dog's dry food per meal.  
There is a twist-lock lid that ensures freshness and keeps curious pets out of the food too.  The food hopper is transparent so you can monitor the food level and refill it when needed.  You can also easily remove it for cleaning. 
The Aspen Pet Lebistro Programmable Food Dispenser by Petmate offers ease and convenience.  It is very durable and reliable so you can provide the best for your pet, even when you are away. 
Three 'D' cell alkaline batteries are required but not included.   This device is for cats and dogs of all breeds and sizes that are over the age of 7 months. 
It measures 9.8" X 14.3" X 16.88", holds 10 lbs. and weighs 5.39 lbs.  It is backed with a one-year limited warranty.
Special Offers:
We are excited to announce that we have become affiliates of Petmate.* This allows us to offer exclusive deals to our customers Direct. All you have to do is click here*
You will get:
The same high-quality products you love and trust
Factory Direct pricing
Bonus!!! Enter these promo codes when you check out and save even more!
Review
Love, love, love this automatic feeder. I have a dog who would eat all day every day if she had her way. This feeder lets me program her food amount and the frequency too. It is extremely dependable and well-made. I say enough good about this product.
---
Share this Product
---
More from this collection