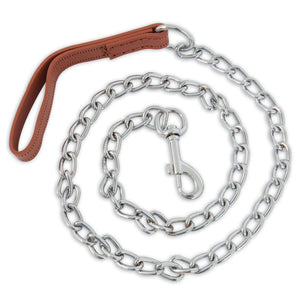 Petmate
Aspen Pet Mighty Link Chain Extra Heavy Leash
Special Offers:
We are excited to announce that we have become affiliates of Petmate.* This allows us to offer exclusive deals to our customers Direct. All you have to do is click here*
You will get:
The same high quality products you love and trust
Factory Direct pricing
Bonus!!! Enter these promo codes when you check out and save even more!
Product Description
Make sure you are linked in when it comes to the safety of your dog. This Petmate Aspen Mighty Link Chain Extra Heavy Leash is ideal for large dogs that like to pull or have issues remaining under control. You want your pet to behave and to be safe so Petmate is there to help you out, as always.
The leash is created with very super sturdy chrome and nickel plating so it won't rust, won't break and will last for decades.  It will contain your dog's strong tugs and pulls, even when other leashes cannot.  Be sure to take the weight of the leash in mind and compare it to the size of your dog so it is not too heavy.  An overly heavy leash can cause small dogs to tire too quickly. 
Great for training and containment, this leash is conveniently also available in a wide array of multiple sizes so you can pick the perfect one for your furry friend's individual needs.  The dimensions are 6.77" X 11.41" X 11.93" and it weighs in at 1.31 lbs.  Finally, you can take control of your dog and enjoy him.
Review
My beast of a dog broke so many leashes, I was not even daring to walk him. He is a good dog but needs some heavy duty training and a heavy duty leash to train upon. Problem solved with this chain leash. He cannot break it no matter how hard he tries!
---
Share this Product
---
More from this collection