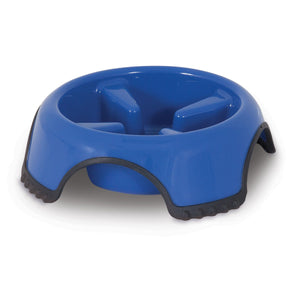 Petmate
Aspen Pet Skid Stop Slow Feed Bowl
Special Offers:
We are excited to announce that we have become affiliates of Petmate.* This allows us to offer exclusive deals to our customers Direct. All you have to do is click here*
You will get:
The same high-quality products you love and trust
Factory Direct pricing
Bonus!!! Enter these promo codes when you check out and save even more!
Product Description
Got a gobbler on your hands?  If you need to slow your four-legged furball's eating down, Petmate has the perfect answer - the Petmate Aspen Pet Skid Stop Slow Feed Bowl.  Lots of dogs eat way too fat which can cause them to suffer discomfort or can cause other digestion problems like bloating.  But the very design of the Petmate Aspen Pet Skid Stop Slow Feed Bowl has a very large interior with indentations that keep your beloved one from eating too quickly or munching down large mouthfuls of food. 
The bowl features a rubber constructed base that keeps the bowl from skidding, slipping, or sliding around.  The bowl is dishwasher safe and is constructed of super heavy-duty plastic that is built to last and also resists nasty and dangerous rust and bacteria. The product measures 13.25" X 13.25" X 4" and weighs 1.05 lbs.
Review
This bowl has really helped my little piggy eat slower.  She's a Bassett so eating was always a problem but then she got a digestive issue and something had to be done.  Problem solved with this bowl. I also like that it is non-skid and won't rust even though it stays outside all of the time. Great product I highly recommend!
---
Share this Product
---
More from this collection