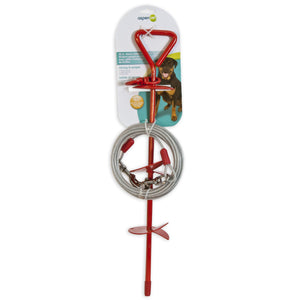 Petmate
Aspen Pet Spiral Stake W/Tie-Out
Special Offers:
We are excited to announce that we have become affiliates of Petmate.* This allows us to offer exclusive deals to our customers Direct. All you have to do is click here*
You will get:
The same high-quality products you love and trust
Factory Direct pricing
Bonus!!! Enter these promo codes when you check out and save even more!
Product Description
Love has healthy boundaries.  If your dog has the need to be contained for his safety and well-being, as his owner and number one fan, it is imperative you give him what he needs.  The Petmate Aspen Pet Spiral Stake W/Tie-Out is the ultimate in containment.  Now, you can give him the freedom he longs for and keep him safe and out of harm's way at the same time.  In the absence of a fence, this innovative containment solution is absolutely ideal. 
The stakes are built to last and are durable so your pup can't pull his way free.  They are super simple to install too and easily go into any type of soil.  There are a number of sizes and styles you can choose from to give your dog what he requires based on his size and strength.  The stakes can be purchased with, or with-out, tie-outs.  The stakes can just be screwed right into the ground where they remain anchored firmly and securely with dual wedge plate anchors which won't allow them to be pulled out. 
The shaft is made of super strong steel that features a double weld for the maximum in security.  A 360-degree swivel ring easily attaches to the tie-out cable and a malleable swivel gives pets ample roaming room and a tangle-free advantage as well.  The dimensions are 20" and it weighs 2.32 lbs.
Review
I needed a solution because I don't have a fence and cannot afford to put one up right now...but, I do have a dog I rescued and had to keep him safe. This swivel spiral stake was the perfect answer to my problem. Now, I can keep my dog and keep him contained while I save up for a fence. He doesn't even realize he's being confined and contained actually because he can go pretty much all over the entire front yard.
---
Share this Product
---
More from this collection