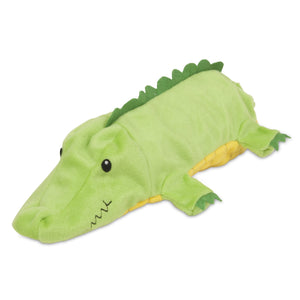 Petmate
Booda Squeakbottles Gator
Special Offers:
We are excited to announce that we have become affiliates of Petmate.* This allows us to offer exclusive deals to our customers Direct. All you have to do is click here*
You will get:
The same high-quality products you love and trust
Factory Direct pricing
Bonus!!! Enter these promo codes when you check out and save even more!
Product Description
There's nothing quite like a crunch and a squeak...if you're a dog, that is.  Dogs go nuts over the delightful crunch of a water bottle and the fun squeak of a plush toy so what did Petmate do?  Combined the two for a toy that is double dog fun!  The Petmate SqueakBottle Gator is a squeaky toy and an empty water bottle all in one.  It's covered in soft plush material for a crunchy munchy great time at play. 
The oversized squeaker is safely protected by the innovative screw-on cap inside the head of this gator creature.  Oh, what fun it is to crackle and crunch!  When your pup has gotten the goodie out of one bottle, simply insert another empty one.  Talk about being eco-friendly!  Re-use your plastic bottles and entertain your pup at the same time.  Great for interactive play or for solo play.  The dimensions are 12" X 3.75" X 3" and the weight is 0.49 lb. 
Review
Love the concept of the earth friendly dog toy. My dog has been fascinated with water bottles since she was a little bitty puppy so when I saw this toy gator, I had to get it for her. She adores it and drives me crazy playing with it all the time. But, it's all good. I don't mind. Great and very creative invention for dogs of all kinds.
---
Share this Product
---
More from this collection