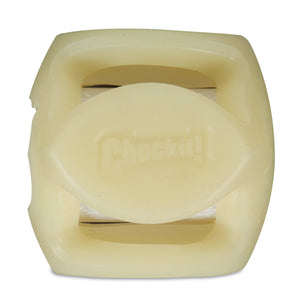 Petmate
Chuckit! Pro LX Erratic Ball
Special Offers:
We are excited to announce that we have become affiliates of Petmate.* This allows us to offer exclusive deals to our customers Direct. All you have to do is click here*
You will get:
The same high-quality products you love and trust
Factory Direct pricing
Bonus!!! Enter these promo codes when you check out and save even more!
Product Description
Sporadic, erratic...that's what dogs love!  If your dog loves the surprise of the unpredictable, he will go bonkers over the Petmate Chuckit! Pro LX Erratic Ball that uses a highly reflective lens innovative technology to allow you and your dog to Find The Ball Fast!  
The durable rubber ball features squared corners that give in an erratic bounce that will intrigue and amaze your favorite four-legged friend for hours upon hours of fun.  It is a fun, erratic way to add excitement to the game of fetch challenging and interesting for your pup.  There is an iconic integrated LED flashlight that is located right inside the launcher handle. All you have to do is to simply shine the LED towards the reflective lens that can be found just inside the ball and you'll be able to find your ball at up to 50+ yards away.  You'll never lose sight of your ball in the dark again!  Your dog can rest easy and know his fun doesn't have to end just because the sun is setting. 
The Pro LX Erratic Ball thoughtfully contains Max Glow® rubber technology which absorbs light effectively and quickly so it glows for up to 30 minutes of after dark play.  This ball works with the Chuckit! Pro LX Launchers.  Be sure to supervise your dog with this toy and all toys.  It is for interactive, supervised play only.  The dimensions are 3.56" x 2.4" x 4.3" and it weighs in at just 0.23 LB.  Get your glow going today!
Review
Ha!  Loads of fun. The ball really glows good and is very bouncy and durable. It only glows for maybe a half hour but it was still a lot of fun. Good toy and a good purchase. My dog loves the erratic bouncing of it. Just when he thinks he's got it all figured out, it bounces elsewhere. Very entertaining to watch!
---
Share this Product
---
More from this collection