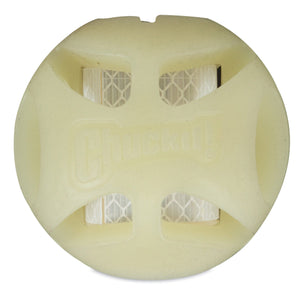 Petmate
Chuckit! Pro LX Fetch Ball
Special Offers:
We are excited to announce that we have become affiliates of Petmate.* This allows us to offer exclusive deals to our customers Direct. All you have to do is click here*
You will get:
The same high-quality products you love and trust
Factory Direct pricing
Bonus!!! Enter these promo codes when you check out and save even more!
Product Description
Why end the fun when the sun goes down?  The Petmate Chuckit! Pro LX Fetch Ball lets you and your dog play on for as long as you want to.  It does so because it utilizes a highly reflective lens technology which innovatively allows Find The Ball Fast!  No more looking and looking while your dog sits and waits.  No sir!  This great product features an integrated LED flashlight that is built right inside the iconic launcher handle.
All you need to do is to simply shine the LED towards the reflective lens that is located right inside the ball.  You'll be able to spot them at up to 50+ yards away so losing the ball will be a thing of the past.  Play after dark and let the fun continue. 
The ball even glows because it has Max Glow® rubber technology which absorbs light quickly so it glows for up to a half hour after dark.  This product works with Chuckit! Pro LX Launchers.  The dimensions are 3.56" x 2.4" x 4.3" and it is lightweight at only 0.23 LB.  Get your after dark fun on today and turn back the hands of time!
Review
I took this Petmate Chuckit! Glow Ball camping with my dog.  I didn't realize it just lasted around 30 mins. But that turned out to be just fine. It is great because we were able to taper off our play as the glow wore off rather than just stopping our play when the sun went down. It was a fun twist. The ball is really durable and my dog enjoyed chasing balls after dark.
---
Share this Product
---
More from this collection