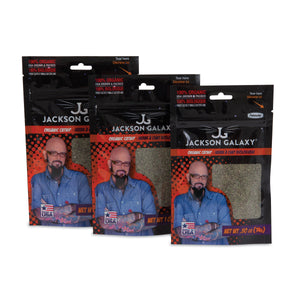 Petmate
Jackson Galaxy Organic Catnip
Special Offers:
We are excited to announce that we have become affiliates of Petmate.* This allows us to offer exclusive deals to our customers Direct. All you have to do is click here*
You will get:
The same high-quality products you love and trust
Factory Direct pricing
Bonus!!! Enter these promo codes when you check out and save even more!
Product Description
Add some play in your cat's day and some pep in his step with Jackson Galaxy Organic Catnip. This catnip is organic and is top quality.  Plus, it's proudly grown and packaged in the USA, so it's safe for your beloved feline.  Each bag contains a potent punch of the best of the best catnip on the market that can be used with Jackson Galaxy toys for adding an extra treat to your cat's life. 
It can be sprinkled in scratchers too or can even be used all by itself.  Catnip, when fine-cut, is excellent for your kitty's gums, teeth and for his digestive health as well.  Available in three convenient sizes that come in re-sealable pouch bags.  Get your cat moving for his health and for his happiness too.
Review
There's nothing I love better than watching my cat, Harry, after he has gotten a good whiff of catnip. He goes wild. I am happy that the catnip is organic and is good for him and that it gets him to do things he wouldn't normally do because he has gotten to be quite the couch cat.  Kudos for this best ever catnip and the fun toys the maker makes that I like to put catnip in.
---
Share this Product
---
More from this collection