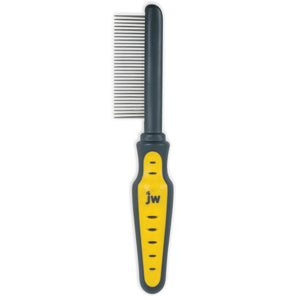 Petmate
JW Gripsoft Comb
Special Offers:
We are excited to announce that we have become affiliates of Petmate.* This allows us to offer exclusive deals to our customers Direct. All you have to do is click here*
You will get:
The same high-quality products you love and trust
Factory Direct pricing
Bonus!!! Enter these promo codes when you check out and save even more!
Product Description
You've got to be kitten...a cat comb that takes the snarls out of grooming your favorite feline?  That's exactly right though.  The Petmate JW GripSoft Cat Comb is an innovative and very important grooming tool for use in the daily care of your long or medium haired kitty.  Daily combing is healthy for your cat because it keeps his skin aired out, prevents matting, and helps with hairballs too. 
The Grip Soft Cat Comb is best used to first remove the tangles and then to use the Cat Comb for a good follow up.  The handle features a no-slip curved rubber grip so your hand is comfortable and you can get a good angle.  The dimensions are 10.8" X 4" X 0.8" and it weighs just 0.32 LB so it is light in your hands. Why pay a paw and a whisker for professional cat grooming when you can do it yourself?  With the Petmate Grip Soft Cat Comb, grooming has never been easier.
Review
My big cat is not a fan of grooming. It is a real ordeal to comb her. But, I am confident with this comb because it has a great gripping handle and it is comfortable to use. Trust me, it makes a big difference in the way she responds. It is also very light in weight which is good. Good product and a good brand.
---
Share this Product
---
More from this collection