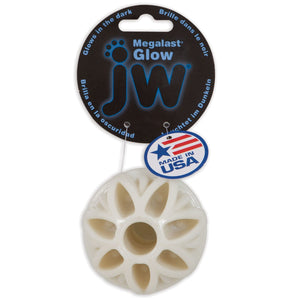 Petmate
JW Megalast Glow Ball
Special Offers:
We are excited to announce that we have become affiliates of Petmate.* This allows us to offer exclusive deals to our customers Direct. All you have to do is click here*
You will get:
The same high-quality products you love and trust
Factory Direct pricing
Bonus!!! Enter these promo codes when you check out and save even more!
Product Description
Stretch your fun with Stretch out until dark-thirty and play until midnight with your Midnight.  Your dog will never have to shut the fun off at sunset when you give him one (or more) of our innovative, super fun, Petmate JW MegaLast Glow Balls.  They are truly tough toys that are built to last for tons and tons of fun.  And better yet, they are made from glow Megalastomer so they light up the night. 
You'll never have to cut the fun off just because the sun is going down or lose your dog's ball again.  This glow in the dark design enables you to see it, both day and night.  An infused vanilla scent will entice your four-legged best friend to play, chase, and chomp until his heart is content which stimulates him mentally, provides for physical exercise, and gives him something more constructive to do than chewing up your best slippers. 
The ball is bouncy and buoyant so it can be played on land or at sea.  It floats and is completely water and weatherproof.  It can be filled with your pup's favorite treat for added pleasure.  It is perfect for teething pups and for dogs who have a lot of extra energy.  Always supervise your dog with this and other toys and discard any toy that shows signs of extreme wear as they can be dangerous. 
Proudly made in the USA at an eco-friendly plant that uses solar power, this ball is recyclable.  It weighs in at 0.27 LB and measures 6.75" X 3.25" X 2.75", the perfect size for loads of fun for Fido.  Make sure your dog has a ball with this iconic glowing ball!
Review
I like playing at night with my dog because it's cooler and I don't have to worry about him getting overheated. He loves this glowing ball. It is durable and was very inexpensive. It is lightweight so I don't get tired tossing it and he certainly never tires of chasing it. Great product!
---
Share this Product
---
More from this collection