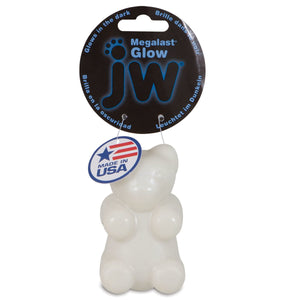 Petmate
JW Megalast Glow Bear
Special Offers:
We are excited to announce that we have become affiliates of Petmate.* This allows us to offer exclusive deals to our customers Direct. All you have to do is click here*
You will get:
The same high-quality products you love and trust
Factory Direct pricing
Bonus!!! Enter these promo codes when you check out and save even more!
Product Description
Not only does this fun Petmate bear toy glow, but your pooch will also glow as well.  Meet the Petmate JW Megalast Glow Bear that is tough as nails but soft as a kitten.  And...it glows in the dark!  Made from durable Megalastomer, this honey of a dog toy is able to been seen day or night.  No more searching for lost toys and no more shutting down play time just because of the sunset.  Keep your pup playing for hours on end with this toy that is infused with the scent of vanilla that naturally entices dogs and makes toy chewing even more fun. 
The toy is buoyant, so it floats and it is super tough and durable so it will last for a long, long time to come.  It bounces too.  Ideal for land or water, the Megalast Glow Bear is perfect for fetch and for water games too.  It is proudly made in the USA and is from an eco-friendly facility that uses solar power so you can know your choice to purchase this product benefits more than just your dog.  Be sure to supervise your dog when he is playing with this and other toys and remove the toy from his reach if it becomes damaged in any way.  The dimensions of the Glow Bear are 7.5" X 3.25" X 1.75" and it weighs 0.29 LB.  Get your dog's glow on today!
Review
It really bothers me that in the winter when the days or shorter, my dog and I have no time to play fetch when I get home from work. Not only does it bother me, but it also bothers him too. I got this toy hoping it would be a remedy to the problem and so far, it is.  It is nice to get to bond with him no matter if it has gotten dark or not. Since it is sometimes raining or snowing, it is also nice that the toy is water and weather proof.  It is durable too.
---
Share this Product
---
More from this collection