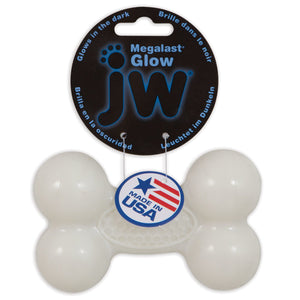 Petmate
JW Megalast Glow Bone
Special Offers:
We are excited to announce that we have become affiliates of Petmate.* This allows us to offer exclusive deals to our customers Direct. All you have to do is click here*
You will get:
The same high-quality products you love and trust
Factory Direct pricing
Bonus!!! Enter these promo codes when you check out and save even more!
Product Description
Bone, sweet bone!  Why give your pooch just any old bone when you can light up his furry life with the innovative Petmate JW Megalast Glow Bone.  It's tough enough to be super durable but gentle on his gums, teeth, and mouth.  The Glow Bone is made of the revolutionary glow Megalastomer that causes it to glow in the dark.  Now you can extend your play time after dark and never have to worry about losing the ball in the night. 
It can be seen both day and night because it glows.  It is also infused with delicious vanilla which entices pups to play and to chomp all they want on it, detouring chewing on things he shouldn't.  He will get plenty of physical exercise and mental stimulation with this great ball.  It is buoyant, so it floats and can be taken to the lake, beach, or pool along with being super fun to bounce or play fetch with on land too.  
Proudly made in the USA at a plant that is eco-friendly and uses solar power.  They're 100% recyclable too.  Be sure to keep an eye on your dog when he's playing and remove any toys that are damaged from his reach.  The dimensions are 6.25" X 5" 1.6250 and it weighs 0.28 LB.
Review
My favorite thing about this product is that it is one that is eco-friendly and is made in the US. Aside from that, it is a fun, well made toy for my dog, Spottie. It keeps us playing together no matter if it is daylight or not...another plus!
---
Share this Product
---
More from this collection