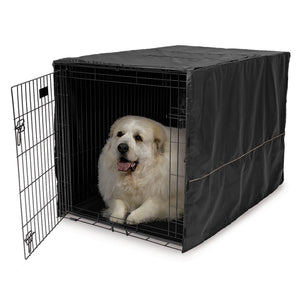 Midwest
Quiet Time Dog Crate Cover
Midwest Quiet Time dog crate covers provide your pet with a quiet, private sanctuary of their own! The easy-to-use crate cover simply slips over the top of your MidWest crate, providing your pet with a relaxing environment to sleep while you are away! The crate cover offers proper ventilation and can be used with 1, 2, or 3 door crates, allowing entrance and access from multiple sides. The crate cover also allows access to the slide-out plastic pan in your crate for easy removal and cleaning. Available in six sizes, the quiet time crate cover will fit the most popular crates currently available.
Please note these dog crate covers fit only crate model numbers listed under sizes/specs tab below.
Features
Provides Privacy Security Comfort & Ventilation
Velcro Tabs Hold Cover Neatly in Place
Allows Access to End & Side Doors with 1, 2, or 3 door crates
Access to Plastic Pan for Easy Removal & Cleaning
Durable, Easy Care, Washer & Dryer Safe 100% Polyester
Attractive Black Polyester with Tan Accents
Available in Six Sizes
Made from 100% Polyester
Use with 1, 2, & 3 Door Crates
Six Sizes Available
Review
My dog, Fluffy, has a lot of anxieties and our house has another dog, a young puppy, and three children. You can imagine what all Fluffy had to deal with. This crate cover fits perfectly over her crate and she is able to chill out whenever she pleases.  It has helped her anxiety a lot.
---
Share this Product
---
More from this collection