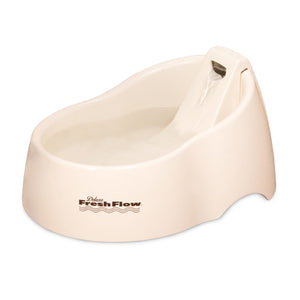 Petmate
Petmate Deluxe Fresh Flow Fountain For Cats
Special Offers:
We are excited to announce that we have become affiliates of Petmate.* This allows us to offer exclusive deals to our customers Direct. All you have to do is click here*
You will get:
The same high-quality products you love and trust
Factory Direct pricing
Bonus!!! Enter these promo codes when you check out and save even more!
Product Description
Kitties need water just like they need the air they breathe.  But cats are finicky and many won't drink water that has been in their bowl for a day...and some have even less tolerance.  Thank goodness for the Petmate Deluxe Fresh Flow Fountain for Cats.  The purifying pet fountain provides crystal clear, free-flowing filtered water at your cat's disposal.  It's is ideal for cats with busy pet parents and households with multiple cats. 
The award-winning fountain continuously circulates fresh water in a no-splash, patented, unique waterslide that encourages him to drink all the water he needs.  The water is oxygenated and naturally cool which attracts even more water consumption.  The AC adapter plugs into standard outlets and each unity has two charcoal filters that are replaceable and are recommended to be switched out every thirty days.  The dimensions are 10.8" X 7.5" X 5" and the weight is 1.75 lbs.  The product comes with a one year limited warranty.
Review
I used to have to make my cat drink water.  She just wasn't getting enough.  I would even put it under her nose, put a little milk in it or whatever I had to do to encourage her to drink.  Sometimes it worked.  Sometimes she just snubbed her nose at it.  She loves her new fountain though and now she is well hydrated and healthier because she drinks a good bit of water every day.
---
Share this Product
---
More from this collection