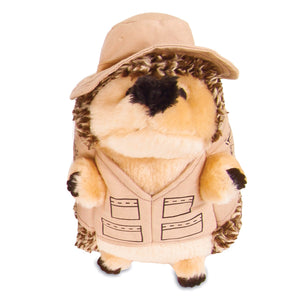 Petmate
Petmate Heggies - Fisherman
Special Offers:
We are excited to announce that we have become affiliates of Petmate.* This allows us to offer exclusive deals to our customers Direct. All you have to do is click here*
You will get:
The same high-quality products you love and trust
Factory Direct pricing
Bonus!!! Enter these promo codes when you check out and save even more!
Product Description
What a catch! This Petmate best-selling Heggie is a great dog toy - hook, line, and sinker!  It is super cuddly and super snuggly, and very soft too.  It will grunt its way right into your dog's playtime.  He just might want to sleep and cuddle with it too so don't be surprised if he does. 
These unique Heggies characters come in a variety of themes like the Fisherman seen here, Princess, Army, Chef, Winter, and Super.  They all make adorable squeaking noises that will delight and intrigue your four-legged friend, enticing him to play which will give him ample physical and mental exercise.  They are the most excellent addition to your pup's toy collection ever! 
Great for a wide variety of sizes and breeds of pups, the dimensions are 7" X 4.3" X 3.9" and it weighs in at a mere 0.22 LB so it is ideal for toting, tossing, and for snuggling. Give your favorite furry one something to grunt about with this cute, durable toy!
Review
Ha! My dog actually does go fishing with me all the time so I got this toy for him, in keeping with the fishing theme. It is really cute and I don't have to worry he will get the squeaker out because it is built tough. It is pretty soft too. We keep it at the fishing cabin and it even looks pretty awesome and thematic when it's just lying around on the floor of the cabin.  A great catch of a toy, for sure!
---
Share this Product
---
More from this collection