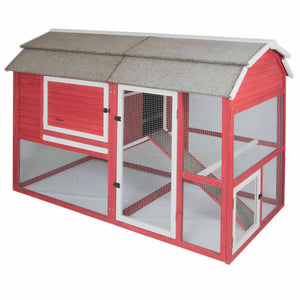 Petmate
Precision Pet Old Red Barn II Chicken Coop
Product Description
Just because your chickens are IN a coop doesn't mean they have to FEEL cooped up...happy chickens lay tasty eggs.  The Petmate Precision Pet Chicken Coop II is the perfect solution if your chickens are in need of a place to call their own. 
This Petmate Precision Pet Old Red Barn II Chicken Coop makes any owner proud.  It is a fast and easy option to having a coop built or building one yourself from scratch (leave the scratch part to the chickens). 
This fine coop is expertly crafted with quality construction and materials.  It includes 3 internal nesting boxes and comfortably accommodates 6-8 chickens.  It sports an asphalt roof, roosting bars, a pull-out cleaning tray, and multiple access doors for egg collecting.
This chicken condo will make sure your chicks are kept safely out of harm's way and it is easy to clean too.  It has all the bells and whistles that are sure to make any chicken happy.  The coop ships in 2 boxes and assembly are required.  The dimensions are 77.36" X 41" X 51.18" and it weighs 1 LB.
Special Offers:
We are excited to announce that we have become affiliates of Petmate.* This allows us to offer exclusive deals to our customers Direct. All you have to do is click here*
You will get:
The same high-quality products you love and trust
Factory Direct pricing
Bonus!!! Enter these promo codes when you check out and save even more!
Review
Excellent solution to my chicken problem. I live on a farm and the chickens are not safe after dark. This pen coop is very nice and is keeping them safe. I am getting a lot more eggs too. Very easy to set up.  There's nothing I don't like about the chicken shack 2 so far.
---
Share this Product
---
More from this collection