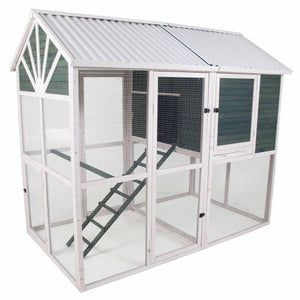 Petmate
Precision Pet Sunrise Walk-In Chicken Coop
Product Description
Got six geese a layin'?  Now you can accommodate them all.  If your chickens are being plucked off and you want to keep them safe, the Petmate Precision Pet Chicken Coop is an affordable solution. 
Whether you have chickens, geese or even partridges, this fine structure is an easy and convenient option for building your own chicken coop from scratch (that's best left up to the chickens).
The innovative Precision Pet Sunrise Walk-In Chicken Coop comfortably fits 6-8 chickens or whatever birds you have and has 3 easily accessible internal nesting boxes so you can collect the eggs your poultry will be laying. It stands 6 ft. tall and features multiple doors for quick and easy clean-up, chicken care, and egg collecting. 
There is a plastic corrugated roof to keep the rain, snow, and sun off your chickens and a rear ventilation to keep the coop comfortable and more sanitary.  It comes with a plastic slide-out tray that slides out with ease so you can keep the area clean and germ-free.
The Petmate Walk-In Chicken Coop has all the amenities needed to provide your flock with safe quarters that is both durable and easy-to-clean.  It ships in 2 boxes and some assembly is required.  The dimensions are 81.8" X 49" X 72" and it accommodates 6-8 chickens.  It weighs in at 167.55 LB. 
Special Offers:
We are excited to announce that we have become affiliates of Petmate.* This allows us to offer exclusive deals to our customers Direct. All you have to do is click here*
You will get:
The same high-quality products you love and trust
Factory Direct pricing
Bonus!!! Enter these promo codes when you check out and save even more!
Review
Very nice chicken coop. I saved a bundle by buying this prebuilt one and I'm in the business of construction and remodeling. I did the math though and had priced doing otherwise but it made much more sense to go this way. It is sturdy, looks great and is very functional. Very pleased and highly recommend and that's coming from a pro. 
---
Share this Product
---
More from this collection