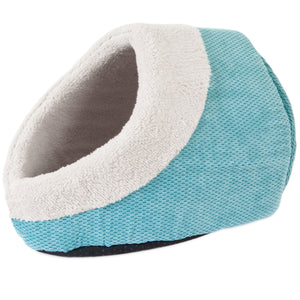 Petmate
SnooZZy Mod Chic Hide & Seek Bed
Special Offers:
We are excited to announce that we have become affiliates of Petmate.* This allows us to offer exclusive deals to our customers Direct. All you have to do is click here*
You will get:
The same high-quality products you love and trust
Factory Direct pricing
Bonus!!! Enter these promo codes when you check out and save even more!
Product Description
You can take your dog out of the wild, but sometimes, you just can't take the "wild" out of your dog.  He was born to be wild...born to burrow and hide from harm. 
Now he can snooze away in complete content with this Petmate SnooZZy Mod Chic Hide & Seek Bed.  It is absolutely ideal for smaller critters, like cats, dogs, and other small sized pets who love to hide out and burrow. 
This super-comfy bed is made from extreme luxurious and very plush fabric and gives your pet the warm fuzzies and the feeling of being secure.  The entrance is quite sturdy and is hooded in style so your little furry one will feel nothing can get to him.  It is very stylish and fits great into most any home. 
The bottom has a non-skid surface to help keep it in place, even while your pet is burrowing.  It's completely machine washable too.  The dimensions are 13.5" L x 13" W and it is lightweight at just 0.6 LB so it's very portable. 
Review
My small dog is in sheer heaven with his new hide-and-seek bed. He loves going in and out, in and out. I think it gives him a sense of security and also connects him with nature because he can do his burrowing thing.  Great look and feel too.  Love the color I got - lake blue, just like the décor in my house is.
---
Share this Product
---
More from this collection