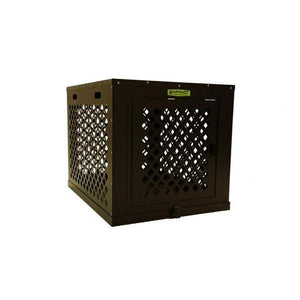 Impact
Impact Hybrid Dog Crate
Product Description
What do you get when you combine an Impact Stationary Crate and a wire dog crate? The Impact Hybrid Dog Crate.
The Hybrid is designed for in-home use. This lightweight aluminum crate provides a higher level of protection than any wire crate can offer and it's safer. If your dog is free of anxiety, not an escape artist or crate destroyer, this is the perfect crate solution.

Impact Dog Crates offers other crate options. The Impact Stationary Dog Crate is the ideal crate choice for dog owners who are interested a crate that is safer and stronger than a wire crate, this is the crate for you. For dogs with high anxiety, separation issues, storm phobia or are crate destroyers, we have the High Anxiety Crate. If you are short on space, the Impact Collapsible Dog Crate folds up quickly and can be easily stored.

The removable floor makes it a snap to clean up after those unexpected messes. The well placed open handles make it a breeze to move around your home. The open design allows for your reliable pet to see out into his environment. Because the crate is open there is an abundance of air movement.
Need help with finding the right dog crate size for your pet? See our Dog Crate Size Breed Chart.
---
Share this Product
---
More from this collection