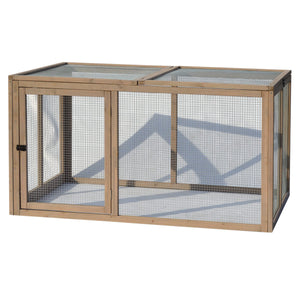 Petmate
Precision Pet Extreme Hen House Extension Pen
Product Description
Got more hens laying than you can handle with your Hen House?  Now you can conveniently connect the Petmate Precision Pet Extreme Hen House Extension Pen to your Precision Pet Extreme Hen and give you chicks some space to spread out. 
It is very sturdy, constructed of solid wood.  It is also a cinch to assemble and talk about safe...no wolves or coyotes will be stealing your chickens in this secure pen so your flock will feel comfortable doing what they do best - foraging and scratching until their little hearts are content. 
This extension features a top door and a side door too so you can easily access the pen when you want to.  It measures 55" X 38" X 30" and weighs 34.2 LB.
Special Offers:
We are excited to announce that we have become affiliates of Petmate.* This allows us to offer exclusive deals to our customers Direct. All you have to do is click here*
You will get:
The same high-quality products you love and trust
Factory Direct pricing
Bonus!!! Enter these promo codes when you check out and save even more!
Review
My chickens were outgrowing their Hen House I had purchased a year or so ago so I bought this. It was very affordable and they are loving the extra space.  I was able to add a few extra chickens and with the extra eggs I'm getting, the addition is easily paying for itself.
---
Share this Product
---
More from this collection