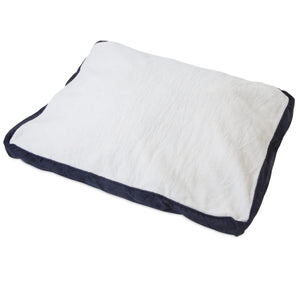 Petmate
SnooZZy Orthopedic Foam Pillow Mattress - Indigo
Product Description
You don't like a lumpy, uncomfortable bed and neither does your beloved furry friend.  Get him the bed that dreams are made of, and on! 
The Petmate SnooZZy® Orthopedic Foam Pillow Mattress is fit for a King, Queen, Fido, or Fluffy. It is thoughtfully constructed of ultra-comfortable 70% top of the line memory foam and 30% regular foam. 
Because it distributes his weight evenly, leaving no painful pressure points, it is able to take away the discomfort your dog may be having due to aging, medical issues, or just the aches and pains of everyday dog life. 
It is firm for support and comfort and is rectangular in shape.  It sports a low profile so your dog can enter and exit with ease.  The super-soft, plush Sherpa fabric will lull him to sleep, keeping him warm in the winter and cool in the summer. 
It is washable too so you can keep the area smelling fresh and squeaky clean.  Simply remove the cover and toss it in the washing machine on cool.  The measurements are 40" L x 30" W x 5" H.  It weighs in at 17 LB.
Special Offers:
We are excited to announce that we have become affiliates of Petmate.* This allows us to offer exclusive deals to our customers Direct. All you have to do is click here*
You will get:
The same high-quality products you love and trust
Factory Direct pricing
Bonus!!! Enter these promo codes when you check out and save even more!
Review
 I bought this bed for my large-medium sized dog.  I was really looking for something else and saw this and liked the memory foam idea.  I also liked the Sherpa.  It has turned out to be a very good bed and I highly recommend it for comfort and durability.
---
Share this Product
---
More from this collection