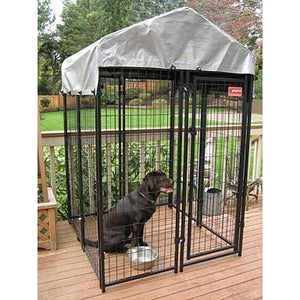 Jewett Cameron
Uptown Patio, Modular Dog Kennels with Cover
Smaller Patio Dog Kennels: Up to 4'W x 8'L. Easy-to-assemble kit makes into a quick, covered holding area. Cover is included. Comes boxed, so has easy UPS shipping.
Uptown Modular Dog Kennels come in two convenient sizes:
6 ft height (with cover)
4' Wide
4' and 8' Length. (4'W x 4'L configuration is very popular as patio kennel or small temporary holding area. 4'W x 8'L configuration is a very popular patio or backyard kennel. Add extra panels and get a longer run).
These Kennels are recognized by the ASPCA for their safety, convenience, and style.
Uptown Dog Kennel Features at a Glance:
Quick and Easy to assemble. 2 Ft W x 5 Ft Tall panels fit together quickly and easily. No special tools Required. The rails go together with just a twist of the nut on a joiner clamp. All hardware included.
Gate latches are Dog-proof and LOCKABLE.
Superior gate hinge design stays square, even after years of use. Pinch-proof when opening or closing.
11 gauge welded steel construction. 1" Square Steel Tubing. 2" x 4" mesh. 1.25" between panels
Black Powder-coated for superior durability and for clean, elegant look.
Smart Weld: Welded INTO the rail, not ONTO it. Welded wire is actually inserted into the panel rails and THEN welded. Prevents usual sharp welding edges as well as potential weak spots where rust can start or welds can pop.
Galvanized and Powder Coated AFTER welding to close and smooth all joints. No sharp edges EVER!
Caps on all uprights to prevent moisture damage and refine the appearance.
Raised Leg: 1" raised legs allow for easy cleaning - help prevent bacteria buildup under panels
Sold standard in 4' and 8' lengths with cover. Add extra panels for more length (uncovered area).
Ships UPS
INCLUDES peaked, weather roof, which makes the covered area 6 Ft Tall
Free-standing backyard dog run
Temporary quarters for visitors or event participants
We've sold runs for nearly every purpose: These high-quality kennels can be used indoors or outside. PLEASE NOTE THAT THIS KENNEL IS NOT FOR AGGRESSIVE OR PHYSICALLY CHALLENGING DOGS.
---
Share this Product
---
More from this collection