• Black Friday 2015 • Breed chart • Bulldogs • Crate Size • Dog Crates • German Shepherd • Hotels • Labrador Retrievers • Pet Travel • Sales • Shih Tzus • Travel
Black Friday is here. It has finally come upon us and we are excited to offer an amazing deal on our Impact Aluminum dog crate series. From now until November 30th you can get 15% off of the already low prices for these premium, American-made dog crates. These crates are perfect for those Houdini dogs that seem to be able to escape from anything. In consideration of the time of year, please allow up to 4 weeks for the item to ship. The Petmate Sky Kennel is by far our most popular airline carrier, but the Petmate Vari Kennels are starting to...
---
• Breed chart • Crate Size • Crates • Dog • Dog Crates • Shih Tzus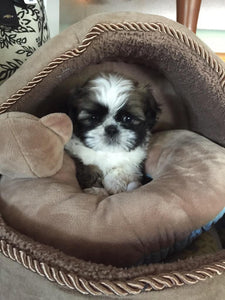 Shih Tzu Quick Facts: AKC recognized in 1969. Lifespan: 12 - 14 years. Size: Small Recommended Dog Crate Size for Shih Tzus: 24" dog crate  Return to the main Dog Crate Sizes Breed Chart. Introduction The Shih Tzu, also known as the Chrysanthemum Dog, is a small-sized breed with long silky hair. Some believe this breed originates from Tibet and China region, but it is still up for debate. Shih Tzu means lion and according to Buddhist belief, since lions were associated with their deity, the dogs were bred in court. The Shih Tzu is the 17th most popular breed...